Lincoln Brewster- Profile, Songs and Lyrics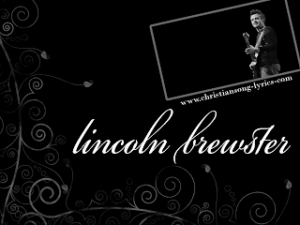 Lincoln Brewster  is an American contemporary Christian musician and worship pastor. As a guitarist, singer, and songwriter, Brewster became a sought-after session guitarist in the early 90s. Brewster is the senior worship pastor at Bayside Church in Granite Bay, California.
Born in Fairbanks, Alaska, in 1971, Lincoln Brewster was playing drums, guitar, and mandolin by the age of seven. By 12 he was fronting his own band,Lincoln & the Missing Links, with his mother Cheryl on bass and vocals. He moved to California at 15 and joined the high school jazz and marching band. By 19, through a series of connections in Los Angeles, he had the opportunity to sign a major-label record contract but found that his personal life was spinning out of control. Christianity provided the tools and the solace Brewster needed to continue not only making music, but to make it in a way that celebrated his newfound faith. He became a much sought-after session musician, touring with Journey's Steve Perry for well over a year. After a brief stint in Oklahoma, Brewster and his wife relocated to Nashville to help build the Oasis Church, where he signed with the faith-based Integrity label and began recording his own music. He has since released Live to Worship in 2000, Amazed in 2002, All to You… Live in 2005, Today Is the Dayin 2008, and Real Life in 2010. In 2012, Brewster delivered the holiday-themed Joy to the World.
Lincoln Brewster Songs and Lyrics